What type of businesses need SEO?
Oct 5
A lot of businesses who are looking to explore digital means of gaining traction at one point or the other face the choice of adding search engine optimization (SEO) to their preferred marketing strategies. Unfortunately, a lot of business owners don't have enough knowledge on the viability of SEO for their businesses. It's time to change that narrative.
In this piece, I'd walk you through all the potential benefits that SEO can offer various businesses, and how to focus your content marketing efforts based on your industry.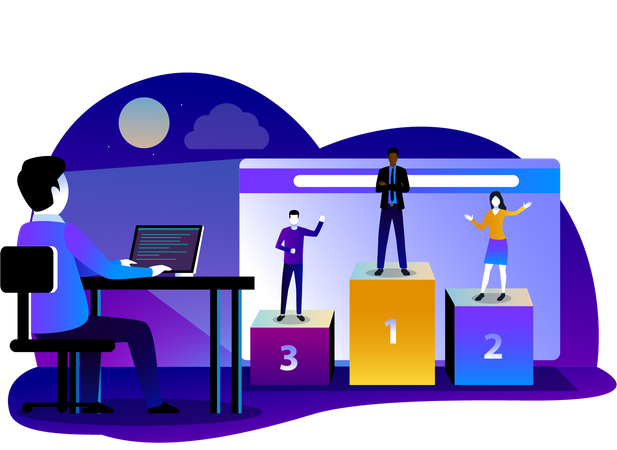 Do all businesses need SEO?
The first point to address is the need for SEO. Most businesses would benefit from a working SEO strategy, no doubt. But deciding whether SEO is a worthy investment for your business growth requires that you weigh your options.
What every business needs undoubtedly is a digital marketing strategy. A comprehensive digital marketing strategy can consist of social media marketing, search engine marketing, paid ads, email marketing, referral programs, and so on. So, ranking on search engines is only one of the many viable channels to acquire customers and generate revenue.
However, most marketers advocate ranking your business website for competitive keywords because SEO is a long-term marketing channel. Once you start generating organic traffic for relevant keywords, you can continue to acquire new customers for months. But it's not all rosy; SEO involves lots of work.
Is SEO a must for all businesses?
Is SEO a must-have for all businesses or is it a nice-to-have? The answer is no. SEO is not a must-have for all businesses. What businesses online must have is a website or landing page that customers can use to interact with their brand. But keyword optimization and other effective SEO strategies used to rank a web page are a choice.
The next big question is should every business invest in SEO? The answer to this takes some thought. Generating quality organic traffic demands implementation of specific SEO tactics. This includes publishing high-quality content, engineering a robust internal linking structure, generating backlinks, audience research, keyword research, and market research using various SEO tools. In essence, the work of optimization takes time and resources which makes a lot of business owners think SEO might not be worth it for their brands.
Be that as it may, it's important to note that there is no marketing strategy that doesn't require some form of investment. What makes any channel worth exploring is if the results align with your business goals. There are some types of businesses that would generate more quality traffic from social media influencers, whereas there are those whose target audience are best found on search engines.
What happens if you don't do SEO?
Again, the goal of any digital marketing strategy is to generate quality leads and increase revenue. If you decide not to SEO for your business, you need to ensure that you're engaging some other channel to maximize your online presence.
Visibility on search engines doesn't only come via general website content optimization. Some businesses thrive better on search engines with a Google Business Profile or with an optimized social media handle.
The point is that, if you won't be investing in professional SEO services, then make sure your business is generating organic traffic through another digital marketing channel. Otherwise, you would be leaving money on the table and your competitors would have an edge over your brand in the tussle for superior market share.
SEO needs differ from business to business
Having established the potential benefits of a proper SEO strategy for your business, let's  consider the different types of content strategy you can engage for a maximized online visibility. An effective SEO tactic plays to the strengths of each business type. Here's how you can maximize SEO for your business.
Small businesses are outfits operated by local business owners and serve a specific community. That type of close-knitted service doesn't need to appear on national search rankings. The potential customers for local businesses are also looking for solutions in their neighborhood. Hence, the appropriate strategy for small businesses is local SEO.
Businesses in this category include local restaurants, real estate agencies, repair services, home improvement services, etc. Viable SEO practices for such businesses work around user-generated content, ranking for geo-targeted keywords, detailed business description, getting listed on business directories, and stellar online reviews. All of these work to showcase your business for mobile searches with local keywords like "near me" or "city name" in your service area.
The types of search query that e-commerce brands should target differs fundamentally from those of local service providers. E-commerce businesses profit more from targeting transactional search intent. Business like books stores, fashion stores, electronic stores, etc.
There's a type of organic traffic looking to make purchases, and since e-commerce sites are designed to sell products, they are the best fit for answering transactional queries on search engines. Hence, web stores often focus on product page SEO, which optimizes for product descriptions, product images, product price, and a clean shopping experience.
National outfits are brands that serve customers without the restriction of a specific location. Or in other cases, these are large companies that have offices across multiple states and service areas. Examples of national outfits are tech startups, digital agencies, and some online businesses. 
Businesses like these operate in competitive industries and often target broad keyword searches. Because there is a strong competition for high-value keyword placements, it's enterprise businesses with high domain authority that dominate the search engine result pages (SERPs). 
Essentially, it takes an adequately planned SEO strategy for smaller brands to get results on global SEO. This would involve targeting more long-tail keywords, creating informative content about solutions, building backlinks to strengthen their off-page SEO, and ensuring that user experience is top-notch so as to secure a high reading time. All these requirements are why businesses looking to rank on global SERPS invest in professional SEO services.
Which small businesses need localized SEO most?
Since the bulk of businesses competing in the biggest industries rely on a solid online presence, they realize the need for SEO and readily invest in long-term marketing efforts. It's small businesses that often contemplate their need for SEO. So, we'll go over why small local businesses need SEO, the type they need, and give a few examples of business types that this would work for.
Small businesses gain a competitive edge with localized searches. This is why local SEO offers a much rewarding online presence for businesses that thrive in a specific geographic location. Particularly, local SEO relies on customer reviews which helps to answer the transactional search intent of potential clients. 
Searcher behavior has evolved over time and it has led to customers being more resolute to only work with online businesses they can trust. So, for businesses in the following category, here's why you need to play your local SEO cards right, if you want to get some search market share.
Home service businesses like electricians, roofers, HVAC services, and plumbers thoroughly benefit from local SEO efforts. This starts from simple steps like creating and optimizing a Google Business Profile. Property owners and managers looking to quickly resolve issues in their home or office look to search engines to find trustworthy business in their locale. And with local SEO the closest and most relevant business gets to appear on organic search. 
To learn more about executing a full-proof SEO strategy for your home service business, read our complete guide to SEO for general contractors.
Food and drink joints benefit from regular customers most, but they also depend on tourists and visitors in their vicinity to make business. With a strong social media presence, restaurants and bars can get more local patronage. But with their Google My Business, they get to use satisfied client reviews to position for new business.
The hospitality industry can benefit from a well-executed local SEO strategy. Hotels and resort services are at the forefront of travel needs. Local SEO offers non-enterprise lodges to showcase their business to visitors in their locality on search rankings without having the domain authority and marketing budget of older establishments. Other services in the travel industry including cab services, car hire, and tour guides also benefit from local SEO.
The target customers of real estate businesses are location-specific. And above most other local services, real estate firms are made or marred by customer reviews. If you run a real estate outfit, there's a whole lot of untapped potential in the apartment renting niche. Most firms still rely on word of mouth to get customers which is solid, but backing that up with a local SEO strategy can set you apart from competition.
The let industry is a high-search-volume niche with millions of search impressions floating around each day. The goal of more pet stores is to get more foot traffic to their brick-and-mortar location. While quality content marketing does the trick for most pet stores. However, the new businesses can't compete with the "old dogs." Hence, local SEO can position local pet businesses for some quality localized searches.
It seems dicey that anyone would want to hire legal services online, but the search volume for legal-related queries doesn't lie. The numbers are there. This means there's a good business reward for law firms who would invest in building a solid digital presence. This also applies to financial advisors and accounting firms.
Medical-related searches remain one of the top daily search categories globally. And large websites like WebMD and Health line get millions of visitors per month. But is there any hope for local medical practitioners and dental practices? Yes, there are yet opportunities for medical outfits to source local customers by maximizing the Google local 3 pack. Not just medical practice businesses, this also extends I to the beauty industry.
Conclusion
What separates businesses performing well with SEO from those who don't usually boils down to how much effort and strategy is being deployed. Foundational to creating a working strategy is to see the need for it. In this piece, I have explained the potential benefits of SEO for different businesses and how businesses in various industries should approach SEO.
Need some professional touch to supercharge your marketing efforts? Consider working with a SEO company.